Browse Helix Models and Effects
Helix currently supports 72 amplifier models, 194 effects, 37 speaker cab models, and 16 microphones. On top of all that you also have the ability to load Impulse Responses (IRs) that you can grab from free or paid sources. Go have fun.
Del Sol 300 (Sunn® Coliseum 300)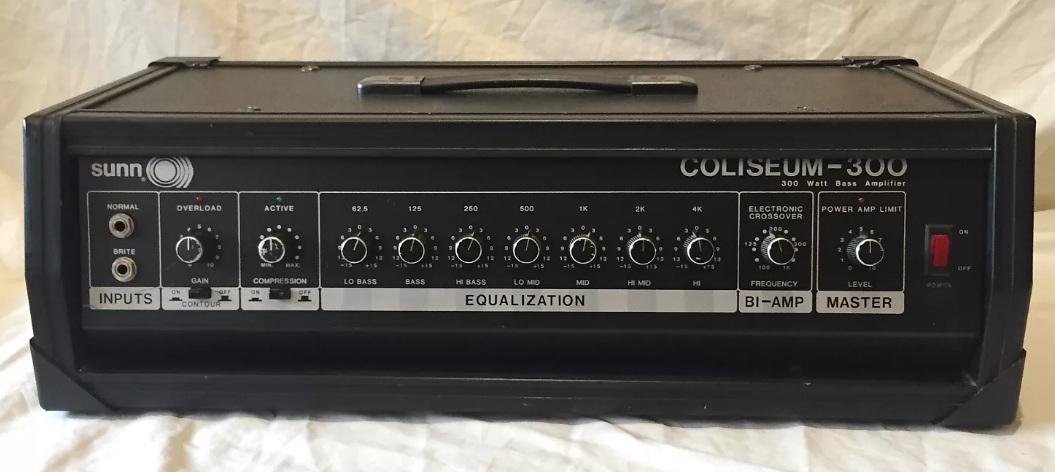 Recorded using the default amp and cab settings for this model. The performance was recorded using an ESP "The Surveyor" bass using both J and P bass pickups set all the way on. A little touch of reverb added for depth. All Helix bass amp demos use the same performance, for easy comparison.
An early 80's bass head with a unique EQ control circuit. Known for having very good bass tone, but somewhat lacking in overall volume.
Image source: reverb.com
Comments
dk768 - April 26, 2023
I play guitar, but for recording and playng bassline this is my preferite choice to plug in daw o in PA my Squire Jazz Classic Vibe 60.

Some Products That We Love
Brought to you by the Fluid Solo department of Commerce
I've been using one of these power supplies permanently zip-tied to my pedalboard, and it's been very handy to keep the original power supply around for off-board usage. Plus it's cheap and works well.
Last seen around $16
The HX Stomp and Helix LT don't have a mic input like the Helix Floor, but this adapter allows you to plug your Mic into the Aux Return as set up guitar/vocal patches such as this one.

Last seen around $19
Those snark-y headstock tuners are great, but it gets old changing out those coin-sized batteries. This rechargeable unit makes tuning a breeze.
Last seen at $29