Browse Helix Models and Effects
Helix currently supports 72 amplifier models, 194 effects, 37 speaker cab models, and 16 microphones. On top of all that you also have the ability to load Impulse Responses (IRs) that you can grab from free or paid sources. Go have fun.
PV Vitriol Crunch (Peavey Invective Crunch Channel)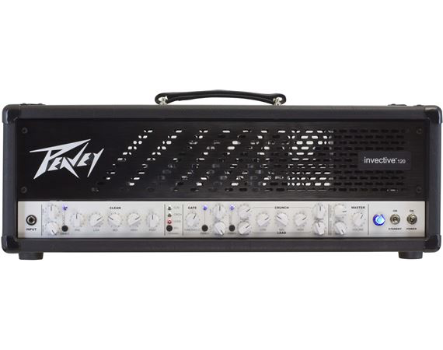 Recorded using a Charvel 475 Classic.Default Amp and Cab settings, plus Dynamic Ambience reverb.
The first high-gain amplifier to deliver pristine cleans, the Peavey invective.120 starts with the no-compromise high-gain performance of the legendary Peavey 6505 series, then adds a level of versatility that is unprecedented in an amp within this class. Designed in collaboration with Misha Mansoor of Periphery, the invective.120 features three channels which each deliver a distinctive sonic-range, as well as a long list of controls which allow you to dial in that perfect tone. Use the included footswitch to quickly switch from one tone to the next, from the most extreme high gain metal, to a flawless classic rock tone, to a deep clean jazz tone - it's all there, and everything in-between!
Description source: Peavey

Comments
There are no comments for this yet.
Some Products That We Love
Brought to you by the Fluid Solo department of Commerce
The HX Stomp and Helix LT don't have a mic input like the Helix Floor, but this adapter allows you to plug your Mic into the Aux Return as set up guitar/vocal patches such as this one.

Last seen around $19
A simple and cost effective way to add 2 additional footswitches to your HX Stomp or other HX device. Yes, including Pod Go! Please be advised that you will also need a TRS type 1/4 inch cable to use both switches.
Last seen around $22
These earplugs are designed for musicians, providing a better audio experience than traditional foam plugs. Plus, they come in a cool aluminum case.
Last seen around $40