Guitar and Mic
Uploaded by jorge on May 16, 2020.
HX Stomp
HX Stomp patches are supported by all Helix devices.
Description
This is a cool patch for singers/songwriters.
1. Plug your guitar into the regular L/Mono input
2. Plug your mic into the L/Mono Aux-in input (on the right hand side of the HX Stomp) - this adapter will allow you to easily hook a standard XLR mic to the HX Stomp or Helix.
There you go - adjust the amp to taste.
Performance Type
Direct (Recording, Headphone, PA)
Downloads
This patch has been downloaded 296 times.
Upvotes
This patch has been upvoted by 4 members.
Comments
Some Products That We Love
Brought to you by the Fluid Solo department of Commerce
This cool guitar strap has built-in strap locks that work without modifying your guitar. All for an extremely reasonable price.
Last seen around $20
A simple and good sounding battery-powered headphone solution. Nux's amp models & effects sound good and you get lots of features for the modest price.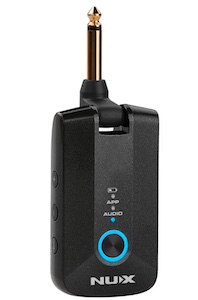 Last seen around $110
A simple and cost effective way to add 2 additional footswitches to your HX Stomp or other HX device. Yes, including Pod Go! Please be advised that you will also need a TRS type 1/4 inch cable to use both switches.
Last seen around $22