May 28, 2020
Filed Under: Gear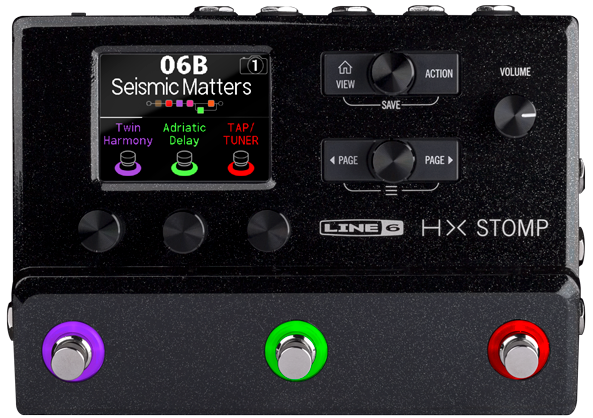 Click here to view the product listing page on Amazon.
The HX Stomp was introduced in 2018 and the product enabled guitar players to get Helix modeling in an ultra-portable pedal sized format. Although small in physical size, the HX Stomp has an impressive set of connectivity options, including MIDI, headphone jack, stereo ins, outs, and aux in, and USB for connecting to Macs, PCs, and iOS devices (via a Lightning to USB connector). The HX Stomp contains all of the same amp and effects models as the more expensive Helix devices, including the looper. There is a limitation of 6 "blocks" within a single preset, soon to be 8 blocks with an upcoming 3.0 update. The Helix LT, Floor and Rack systems have double the processing capability of the HX Stomp.
It's a perfect device for "testing the waters" on Helix modeling, playing primarily thru headphones, or for integrating Helix amps and effects into a pedalboard for live use. It supports the "4 cable method" amp hookup method.
The Stomp is capable of hooking to a PC or iPad for mobile recording needs. You can record 4 tracks of live audio at once - the stereo inputs plus stereo aux-in. You can also record the "dry", or "raw" inputs separately from the "wet" signals with the effects modeling applied. There are 8 total channels of USB audio flowing to your recording software.
Pros :
Tiny, lightweight unit with tons of connectivity
All Helix amps and effects are included, and software updates include all the new models
HX Editor for Mac and PC is great for editing and creating patches
Expression pedal and external footswitch
Cons :
Power cable is very short, as it is optimized for pedal boards
Single-switch looper only (Helix Floor, LT and Pod Go have more loop control options)
Some Products That We Love
Brought to you by the Fluid Solo department of Commerce
I've been using one of these power supplies permanently zip-tied to my pedalboard, and it's been very handy to keep the original power supply around for off-board usage. Plus it's cheap and works well.
Last seen around $16
The IK Multimedia Tonex pedal is an affordable and great sounding amp and overdrive pedal profiler. It also includes acess to the full-featured Tonex and Amplitube applications for your Mac or PC.
Last seen at $399
Pedal toppers make switching easier by giving you more surface area for your feet.
Last seen around $9 for a ten-pack