Fluid Solo Now Supports HX Effects!
July 29, 2022
Filed Under: News Update
HX Effects Support Officially Launched
Apologies for this taking so long, people have asked for this since the beginning. We didn't have a unit for testing at HQ until the past few days, and now we're here. Please upload away and enjoy!
Some Products That We Love
Brought to you by the Fluid Solo department of Commerce
Pedal toppers make switching easier by giving you more surface area for your feet.
Last seen around $9 for a ten-pack
A simple and good sounding wireless unit for home use. Don't gig with it, but enjoy the convenience at home.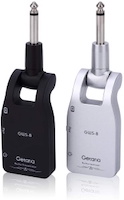 Last seen around $36
The HX Stomp and Helix LT don't have a mic input like the Helix Floor, but this adapter allows you to plug your Mic into the Aux Return as set up guitar/vocal patches such as this one.

Last seen around $19