Browse Helix Models and Effects
Helix currently supports 72 amplifier models, 194 effects, 37 speaker cab models, and 16 microphones. On top of all that you also have the ability to load Impulse Responses (IRs) that you can grab from free or paid sources. Go have fun.
Dhyana Drive (Hermida Zendrive)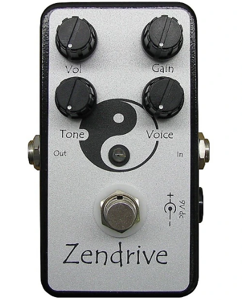 Recorded using a stratocaster with the pickup in the neck position. The first section of this sample is with the pedal on. The second is with the pedal off, for comparison.
The Hermida ZenDrive is a "Dumble in a box" pedal that you should try pairing up with a clean Fender amp for a great tone. Alfonso Hermida wanted to replicate Robben Ford's tone in his "Golden Slumbers" cover from a Beatles tribute album.
The standard in dynamic, touch-sensitive overdrive pedals. Cut through the mix with the incomparable Zendrive. Inspired by a legendary guitarist, the Zendrive delivers blues, country, jazz and fusion tones associated with some of the finest, most costly amplifiers in the market. Four knobs control the overall volume, gain, tone and voicing of the pedal. At lower settings, the pedal offers extremely light overdrive sounds reminiscent of tube amps set near the "sweet spot." At higher settings, the Zendrive increases in gain and sustain, producing tasty overdrive and low distortion tones.
View the Hermida Zendrive product page on Amazon.
Description source: Lovepedal

Patches including this Distortion Pedal:
Patch
Device
Performance
Type
Description
Member
Downloads
Upvotes
Oh Dhyana
Soundcloud
HX Stomp
Direct (Recording, Headphone, PA)
Dhyana drive into the Archetype Clean amp model, dual cabs. Some spring reverb and LA Studio Comp for added presence.
jorge
236
6
Twin Diana
Helix LT
Direct (Recording, Headphone, PA)
Lovely clean Twin and Dhyana for some (or more) overdrive. Also trem and delay in front, and some boosts after the amp.
maxdb
52
2
Oh Ingrid
Soundcloud
HX Stomp
Direct (Recording, Headphone, PA)
Derailed Ingrid patch, showing the Trainwreck amp model of the Helix. The Dhyana Drive is included, but not enabled by default. I have been making good use of the "Double Take" modulation effect, it adds a lot of body to the sound through headphones…
jorge
146
1
Still Loving You
Helix LT
Direct (Recording, Headphone, PA)
Still Loving You
konex29
89
1
YA (Yet Another) Dumble
Pod Go
Direct (Recording, Headphone, PA)
Second attemp at a Dumble-ish tone using the Zen Drive pedal into a Fender Deluxe Reverb.
jorge
125
0
Fullerton Flyboard
Youtube
HX Stomp
Direct (Recording, Headphone, PA)
This patch was provided to me by my teacher Josh Skaja. It's an all-purpose patch that you can use for performing a number of pop songs. Two distortion pedals allows for some great gain staging. The modulation blocks are really versatile as well.&nb…
kalimar
8
0
Comments
maxdb - Dec. 29, 2019
Sounds lovely into a clean Twin (US Double nrm)

---
Some Products That We Love
💵 Brought to you by the Fluid Solo department of Commerce
Until there's built in wireless for Helix, add this great and cheap wireless system to your setup.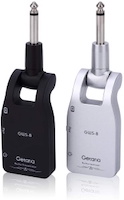 Last seen at around $40
The HX Stomp and Helix LT don't have a mic input like the Helix Floor, but this adapter allows you to plug your Mic into the Aux Return as set up guitar/vocal patches such as this one.

Last seen at around $18
These headphones sound great with your device, and will last for many years.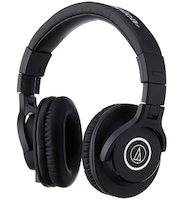 Last seen at around $100