Browse Helix Models and Effects
Helix currently supports 72 amplifier models, 194 effects, 37 speaker cab models, and 16 microphones. On top of all that you also have the ability to load Impulse Responses (IRs) that you can grab from free or paid sources. Go have fun.
US Princess (Fender Princeton Reverb)
Demo played through a Telecaster with stock USA pickups. A little reverb added, and some bass response control in the cab and amp to tighten up the E string.
The Princeton Reverb is the world's favorite small amp. It is a single channel, 12 watt tube amp with reverb and tremolo.
The impressive clean headroom and overall warmth and richness makes this amp an ideal base for a pedal-based rig for gigging or recording. The tremolo is also mightily impressive, with a rich, organic texture that smoothly emerges on the decay of sustained notes and ducks out of the way when playing more aggressively.
Partly thanks to session players like Tommy Tedesco and Steve Lukather, the Princeton is known as the most recorded amp in the world, but the amp has also appeared on stage and in the studio with rockers like Pete Townshend, Mike Campbell and St. Vincent, country pickers Clarence White, Marty Stuart and Kenny Vaughan and even jazz guitarists like Bill Frisell.
Hundreds of well-known stars may have made the Fender Princeton amp an icon, but its success and longevity lie with the millions of unknown players like you and I who have made it a reliable staple for practice, recording and club gigs.
While the Princeton evolved over the years from the primitive "Woodie" version Leo Fender developed during the late Forties through the Princeton Recording Amp produced until 2009, the most coveted version remains the legendary blackface Princeton Reverb with the AA764 circuit produced from 1964-67.
Patch
Performance
Type
Description
Member
👇 Downloads
🤘 Upvotes
Fullerton Flyboard
Youtube
Direct (Recording, Headphone, PA)
This patch was provided to me by my teacher Josh Skaja. It's an all-purpose patch that you can use for performing a number of pop songs. Two distortion pedals allows for some great gain staging. The modulation blocks are really versatile as well. In this YouTube video I'm using it with the de…
Kalimar
173
3
Rude Princess
Direct (Recording, Headphone, PA)
This patch requires the new Helix 3.0 Update.Uses the new Fender Princeton Reverb model for some tasty clean and overdrive tones.
Jorge
318
2
Spaced Delay
Direct (Recording, Headphone, PA)
A nice stereo delay clean tone using the Princeton amp and cab. Two stereo delays are run in parallel for cool ambience.
Jorge
64
1
Mary Jane's Last Dance
Youtube
Direct (Recording, Headphone, PA)
This is a lightly edited mod of johnnyrauker's patch on CustomTone, found while looking for good uses of the Alpaca Rouge overdrive. Terrific sounding patch, nails the tones of Tom Petty and Mike Campbell. Experiment with different guitars for alternate tones.
Jorge
97
0
Lap Steel
Soundcloud
Direct (Recording, Headphone, PA)
Cool lap steel tone for country western or Hawaiian music. Sorry about the single coil hum in the demo, had trouble getting rid of it completely, even with the Horizon gate engaged.
Jorge
40
0
Comments
There are no comments for this yet.
Some Products That We Love
Brought to you by the Fluid Solo department of Commerce
A simple and cost effective way to add 2 additional footswitches to your HX Stomp or other HX device. Yes, including Pod Go! Please be advised that you will also need a TRS type 1/4 inch cable to use both switches.
Last seen around $22
A simple and good sounding wireless unit for home use. Don't gig with it, but enjoy the convenience at home.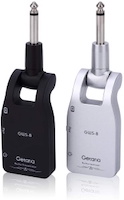 Last seen around $36
This cool guitar strap has built-in strap locks that work without modifying your guitar. All for an extremely reasonable price.
Last seen around $20