Van Halen One for Stomp
Uploaded by darthhollis on May 14, 2019.
HX Stomp
HX Stomp patches are supported by all Helix devices.
Description
This is a simple patch for achieving a close approximation of the sound on the Van Halen 1 album. Reverb is on the right and more direct signal on the left which is like the album. You can simply move the move the reverb up out of the path 2 back into path 1. I have a video with me going through various songs from the album. In the video I am using my EB MM Axis that is about 20 years old now. The pickups in that guitar are amazing.
Performance Type
Direct (Recording, Headphone, PA)
Downloads
This patch has been downloaded 1454 times.
Upvotes
This patch has been upvoted by 17 members.
Comments
Some Products That We Love
Brought to you by the Fluid Solo department of Commerce
The Spark Mini contains a built-in rechargeable battery, and impresses with big tones in a tiny package. Bluetooth support allows for music streaming and amp control from your mobile device.
Last seen on sale at $195
A simple and good sounding battery-powered headphone solution. Nux's amp models & effects sound good and you get lots of features for the modest price.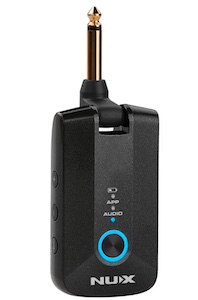 Last seen around $110
I've been using one of these power supplies permanently zip-tied to my pedalboard, and it's been very handy to keep the original power supply around for off-board usage. Plus it's cheap and works well.
Last seen around $16