May 29, 2020
Filed Under: Gear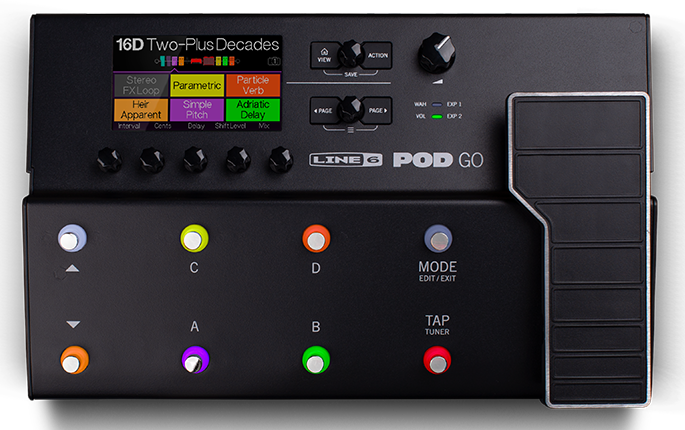 Click here to view the product listing page on Amazon.
The Pod Go hit the shelves in April 2020 after being announced at the Anaheim NAMM show in January. Almost exactly one year later, Line 6 released Pod Go Wireless, which features an integrated wireless receiver, and includes a transmitter in the box for simple wireless operation.
It features most of the Helix amp and effects models, but there is a small number of effects that are not available. This is because the Pod Go has a slightly slower processor than the HX Stomp or other Helix devices.
The Pod Go has some advantages over the HX Stomp, it's closest relative in the Helix family. It has a much larger LCD screen that is easier to read, and can fit more information in its display. It has more footswitches, and a built-in expression pedal. It's also easier to use and operate, since it is more limited in the types of routing available for creating patches compared to the HX Stomp and Helix devices.
Pod Go patches have a set of built-in blocks that are always assigned to an amp model, a cabinet or IR, Volume/Wah, EQ, and FX Loop. There are 4 effects blocks that can be set to an effects model or looper and can be moved anywhere in the chain.
The biggest advantage over the HX Stomp and its other siblings in the Helix family is price. The $449 street price is considerably lower, making it a very attractive option.
Pros
True Helix amp and effects modeling
IR loading
Built in expression pedal with Toe switch alternates between wah and volume pedal
Cons
No dual-path availability. For example on the HX Stomp you can create a patch that supports a microphone and guitar, with their own separate chain of effects, The Pod Go only has a single path of operation.
Some of the newer Helix effects models are not available on the Pod Go due to CPU limitations. These include the Analogman King of Tone and the Steve Vai Legacy overdrives.
No MIDI
Some effects types such as drives and compressors are mono-only. They will cause any stereo effects to be combined into a mono signal. You have to be careful to place stereo effects after mono effects, or you'll lose stereo separation.
Some Products That We Love
Brought to you by the Fluid Solo department of Commerce
The HX Stomp and Helix LT don't have a mic input like the Helix Floor, but this adapter allows you to plug your Mic into the Aux Return as set up guitar/vocal patches such as this one.

Last seen around $19
A simple and good sounding battery-powered headphone solution. Nux's amp models & effects sound good and you get lots of features for the modest price.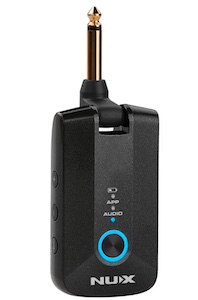 Last seen around $110
Those snark-y headstock tuners are great, but it gets old changing out those coin-sized batteries. This rechargeable unit makes tuning a breeze.
Last seen at $19