Browse Helix Models and Effects
Helix currently supports 72 amplifier models, 194 effects, 37 speaker cab models, and 16 microphones. On top of all that you also have the ability to load Impulse Responses (IRs) that you can grab from free or paid sources. Go have fun.
1x12 Match H30 (1x12" Matchless® DC-30 G12H30)
This model is for a Matchless DC-30 amp combo, miking the Celestion G12H30 speaker.
Patch
Performance
Type
Description
Member
👇 Downloads
🤘 Upvotes
Tim Henson - Blood Moon
Direct (Recording, Headphone, PA)
This tone was made to replicate Tim Henson's tone on his track Blood Moon. I personally use this preset with coil splitted neck humbucker on my PRS CE 24 and it sounds great :)Guitarist: Tim HensonBand: PolyphiaGuitar I used: PRS CE 24
Omer
280
5
Ambient
Direct (Recording, Headphone, PA)
Ambient
Carino.Ericson
362
3
James Valentine - Maroon 5
Youtube
Direct (Recording, Headphone, PA)
Upon learning of the guitar rig for James Valentine of Maroon 5, I've put together this little patch. You can learn more about Valentine's rig at the Youtube link, but the core of his sound is:Tele style guitar + stereo clean ampsFor his live rig (covered in the video), he runs Suhr and Matchless a…
Danemiles
231
1
Jingle Jangle
Soundcloud
Direct (Recording, Headphone, PA)
12 string into a chime amp = awesome. The Soundcloud demo below was made with Logic drums, and I used my "Guitar Goes Bass" preset available here on fluid solo to create the bass guitar sound. No bass guitar needed. Listen for the organ-like fadeout, very cool.
Jorge
34
1
Bayou
Direct (Recording, Headphone, PA)
Some pod X3 recarnations on Helix.
Arislaf
76
0
Comments
There are no comments for this yet.
Some Products That We Love
Brought to you by the Fluid Solo department of Commerce
A simple and good sounding battery-powered headphone solution. Nux's amp models & effects sound good and you get lots of features for the modest price.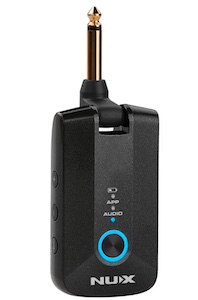 Last seen around $110
The HX Stomp and Helix LT don't have a mic input like the Helix Floor, but this adapter allows you to plug your Mic into the Aux Return as set up guitar/vocal patches such as this one.

Last seen around $19
Pedal toppers make switching easier by giving you more surface area for your feet.
Last seen around $9 for a ten-pack