Browse Helix Models and Effects
Helix currently supports 72 amplifier models, 194 effects, 37 speaker cab models, and 16 microphones. On top of all that you also have the ability to load Impulse Responses (IRs) that you can grab from free or paid sources. Go have fun.
Dynamic Plate (Line 6 Original)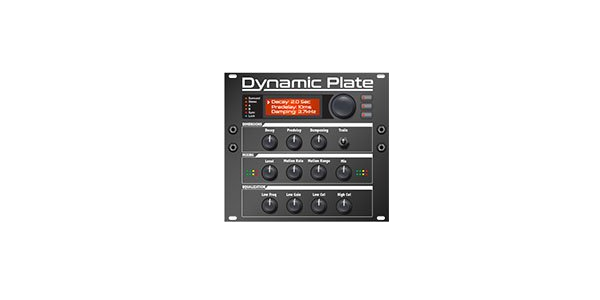 Line 6 Original plate reverb typically found in high-end studio rack reverbs.


Decay—Sets the decay of the reverb (0.1 sec ~ 45.0 sec, or Infinity)

Predelay—Determines the amount of delay heard before the signal enters the plate. Can sometimes result in more definition between the dry and effected signals

Damping—Determines the frequency above which the reverb will be absorbed. For example, if your hall is full of people wearing fake ocelot jumpsuits, more high frequencies would be absorbed than if the room were empty

MotRate—Motion Rate, or how fast the echoes' intensity changes, due to changes in plate tension or temperature

MotRng—Motion Range, or how much the internal delays change. Similar to the modulation control on older tank reverbs

Mix—Controls the wet/dry mix of the reverb. When set to 0%, no reverb is heard; when set to 100%, no dry signal is heard

Low Freq—Sets the frequency below which the Low Gain parameter is applied

Low Gain—Sets the reverb time for frequencies below the Low Freq value. Values below 0.0dB mean the bass frequencies decay faster than the treble frequencies; values above 0.0dB mean the bass frequencies decay slower than the treble frequencies

Low Cut—Applies a low cut (or high pass) filter to the reverb, letting you remove the effected signal below a certain frequency

High Cut—Applies a high cut (or low pass) filter to the reverb, letting you remove the effected signal above a certain frequency

Level—Controls the overall output level of the block

Trails—When set to "Off," the reverb decay is instantly muted when the block is bypassed. When set to "On," the reverb continues to decay naturally when the block is bypassed or a different snapshot is selected

Description source: Line 6
Image source: Line 6
Patch
Performance
Type
Description
Member
👇 Downloads
🤘 Upvotes
Dreamcatcher
Youtube
Direct (Recording, Headphone, PA)
Works well for vibey fingerpicking or light chord strumming.Images in video provided by the incredible Dall-e.
Jorge
167
4
Juicy 800
Soundcloud
Direct (Recording, Headphone, PA)
Plug in your Les Paul and go. Includes second path for a power amp out of the send block, as I hook up to a Seymour Duncan PS170 and a true guitar cab.
Jorge
339
2
Hotel Califfo
Direct (Recording, Headphone, PA)
My first idea about Hotel California
Gianni
45
0
Talisman
Direct (Recording, Headphone, PA)
d
Jofjdn
6
0
Comments
There are no comments for this yet.
Some Products That We Love
Brought to you by the Fluid Solo department of Commerce
The Strymon Blue Sky offers lush beautiful reverbs and is a great addition to a guitar rig.
Last seen at $379
A simple and cost effective way to add 2 additional footswitches to your HX Stomp or other HX device. Yes, including Pod Go! Please be advised that you will also need a TRS type 1/4 inch cable to use both switches.
Last seen around $22
The HX Stomp and Helix LT don't have a mic input like the Helix Floor, but this adapter allows you to plug your Mic into the Aux Return as set up guitar/vocal patches such as this one.

Last seen around $19