HX Stomp as Input for Helix Native
Uploaded by jorge on April 7, 2019.
HX Stomp
HX Stomp patches are supported by all Helix devices.
Description
This utility patch is used for running an HX Stomp into a Mac or PC for using it as an interface to Helix Native. In your DAW, set the input to input 5 on the HX Stomp and run this patch. Turn on monitoring in the DAW, and now you will only hear Helix Native in your headphones or speakers.
Performance Type
Direct (Recording, Headphone, PA)
Downloads
This patch has been downloaded 295 times.
Upvotes
This patch has been upvoted by 7 members.
Comments
Some Products That We Love
Brought to you by the Fluid Solo department of Commerce
These earplugs are designed for musicians, providing a better audio experience than traditional foam plugs. Plus, they come in a cool aluminum case.
Last seen around $40
I've been using one of these power supplies permanently zip-tied to my pedalboard, and it's been very handy to keep the original power supply around for off-board usage. Plus it's cheap and works well.
Last seen around $16
A simple and good sounding wireless unit for home use. Don't gig with it, but enjoy the convenience at home.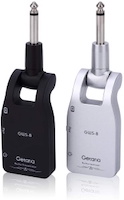 Last seen around $36