Hx Stomp- Radiohead
Uploaded by derums on Feb. 8, 2020.
HX Stomp
HX Stomp patches are supported by all Helix devices.
Description
Johnny Greenwood's the bends tone. Based off of a od-3 into a fender nrm. Also includes the bleat chop style trem to recreate the tempo synced tremelo featured on Planet Telex. This also will work well for the Airbag tone on your neck pickup.
Performance Type
Direct (Recording, Headphone, PA)
Downloads
This patch has been downloaded 641 times.
Upvotes
This patch has been upvoted by 4 members.
Comments
There are no comments yet.
Some Products That We Love
Brought to you by the Fluid Solo department of Commerce
A simple and cost effective way to add 2 additional footswitches to your HX Stomp or other HX device. Yes, including Pod Go! Please be advised that you will also need a TRS type 1/4 inch cable to use both switches.
Last seen around $22
This cool guitar strap has built-in strap locks that work without modifying your guitar. All for an extremely reasonable price.
Last seen around $20
A simple and good sounding battery-powered headphone solution. Nux's amp models & effects sound good and you get lots of features for the modest price.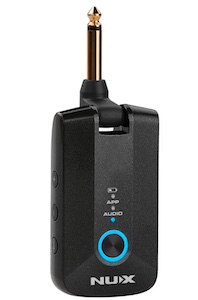 Last seen around $110