Satisfaction Fuzz
Uploaded by jorge on July 10, 2021.
Helix Floor
Patch is supported by all Helix devices minus HX Stomp.
Description
The iconic fuzz tone from Keith Richards is here. Great Rolling Stones tone.
Performance Type
Direct (Recording, Headphone, PA)
Downloads
This patch has been downloaded 76 times.
Upvotes
This patch has been upvoted by 1 member.
Comments
There are no comments yet.
Some Products That We Love
Brought to you by the Fluid Solo department of Commerce
The HX Stomp and Helix LT don't have a mic input like the Helix Floor, but this adapter allows you to plug your Mic into the Aux Return as set up guitar/vocal patches such as this one.

Last seen around $19
A simple and good sounding wireless unit for home use. Don't gig with it, but enjoy the convenience at home.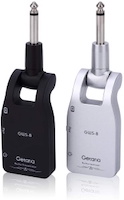 Last seen around $36
This cool guitar strap has built-in strap locks that work without modifying your guitar. All for an extremely reasonable price.
Last seen around $20