Browse Helix Models and Effects
Helix currently supports 72 amplifier models, 194 effects, 37 speaker cab models, and 16 microphones. On top of all that you also have the ability to load Impulse Responses (IRs) that you can grab from free or paid sources. Go have fun.
4x12 1960 T75 (4x12" Marshall® 1960 AT75)
The Marshall 1960 cab is what you think of when you hear "Marshall stack". It's the standard cab to pair with a Marshall amplifier head. These cabs are sold as either angled, or straight (shown). The angled model aims the two top speakers upwards, making it easier for the guitar player to ear themselves when playing live.
Patch
Performance
Type
Description
Member
👇 Downloads
🤘 Upvotes
Slash Mod 2204
Soundcloud
Direct (Recording, Headphone, PA)
Most of the Slash patches I get all sound thin and frankly a little weird. He has a very straightforward tone. I tried to capture the spirit of his tone here. It's a bit fuzzy but I think it works well in a mix or for some headphone soloing. Sorry for the horrible soloing in my SoundCloud demo. …
Jorge
2156
37
Green Day Dookie Tone
Soundcloud
Direct (Recording, Headphone, PA)
This stereo tone replicates Billie Joe's tone on Green Day's Dookie album pretty well. There's a compressor and boost available for a little extra oomph, but they're off by default because they're not really needed to get the album tone. I used a Les Paul to record the Soundcloud demo, you may …
Jorge
1691
27
Angus Young
Direct (Recording, Headphone, PA)
It's a bit more juiced than Angus's tone on the albums, but it's a great AC/DC tone. Try to use mild PAF-type humbuckers to get close to his tone. Long live ACDC!
Jorge
1068
8
Rockerverb
Youtube
Direct (Recording, Headphone, PA)
New for Helix 3.1, the Rockerveb is a very cool and versatile amp for rock n roll. Try this tone in place of a Marshall for a crunchier, fatter tone.
Jorge
690
7
Aces 2204
Direct (Recording, Headphone, PA)
This patch will make your mudflaps flap. Juicy JCM800 tone. The reverb makes the chords a bit richer.
Jorge
625
6
Green Day Dookie
Direct (Recording, Headphone, PA)
Good tone match for the Dookie album by Green Day. I added the Goatkeeper, although it wasn't used on the album. It helps for some of their future material. Billie Joe used a Strat copy with a humbucker on the album, try that here.
Jorge
570
3
Dreamcatcher
Youtube
Direct (Recording, Headphone, PA)
Works well for vibey fingerpicking or light chord strumming.Images in video provided by the incredible Dall-e.
Jorge
82
3
Raging Tom
Direct (Recording, Headphone, PA)
That classic Tom Morello setup for Pod Go! If you enjoy my free tones check out my premium tones for Helix, HX Stomp, and Pod Go on the Line 6 Marketplace. Shamelessly borrowed from CustomTone.com to have a few patches available for Pod Go launch.
Jorge
507
2
Ventoux Heights
Direct (Recording, Headphone, PA)
Get a nice taste of the newest HX amp model with this mid-gain tone. Perfect for your tele or strat.
Jorge
176
2
Juicy 800
Soundcloud
Direct (Recording, Headphone, PA)
Plug in your Les Paul and go. Includes second path for a power amp out of the send block, as I hook up to a Seymour Duncan PS170 and a true guitar cab.
Jorge
243
2
Comments
There are no comments for this yet.
Some Products That We Love
Brought to you by the Fluid Solo department of Commerce
A simple and good sounding battery-powered headphone solution. Nux's amp models & effects sound good and you get lots of features for the modest price.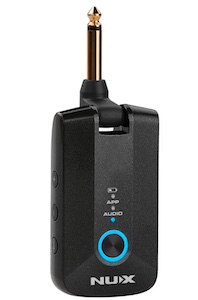 Last seen around $110
The Spark Mini contains a built-in rechargeable battery, and impresses with big tones in a tiny package. Bluetooth support allows for music streaming and amp control from your mobile device.
Last seen on sale at $195
Pedal toppers make switching easier by giving you more surface area for your feet.
Last seen around $9 for a ten-pack