Ventoux Heights
Uploaded by jorge on Feb. 16, 2022.
HX Stomp
HX Stomp patches are supported by all Helix devices.
Description
Get a nice taste of the newest HX amp model with this mid-gain tone. Perfect for your tele or strat.
Performance Type
Direct (Recording, Headphone, PA)
Downloads
This patch has been downloaded 87 times.
Upvotes
This patch has been upvoted by 1 member.
Comments
Some Products That We Love
Brought to you by the Fluid Solo department of Commerce
A simple and good sounding wireless unit for home use. Don't gig with it, but enjoy the convenience at home.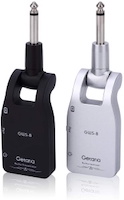 Last seen around $36
These earplugs are designed for musicians, providing a better audio experience than traditional foam plugs. Plus, they come in a cool aluminum case.
Last seen around $40
Pedal toppers make switching easier by giving you more surface area for your feet.
Last seen around $9 for a ten-pack