Browse Helix Models and Effects
Helix currently supports 72 amplifier models, 194 effects, 37 speaker cab models, and 16 microphones. On top of all that you also have the ability to load Impulse Responses (IRs) that you can grab from free or paid sources. Go have fun.
Teemah! (Paul Cochrane Timmy® Overdrive)
Recorded using a Les Paul with Burstbucker pickups into a Twin Reverb model with the normal input. The overdrive pedal and amp are set at default settings. A touch of reverb added for depth.
Hand made by Paul Cochrane in the U.S., the Timmy is the smaller brother of the 'Tim' overdrive pedal. There are differences in functionality but the real beauty lies in the circuit both pedals share. Its simple but insightful design lends it to be one of the most transparent tones available in a pedal today. The overdrive ranges from a totally clean boost to a creamy and smooth front end smack. The EQ is also fantastic allowing you to tailor the way the pedal works with the amp. Used as a clean boost, an OD or stacking with other pedals, the Timmy is truly outstanding and totally deserving of its stellar reputation.
Patch
Performance
Type
Description
Member
👇 Downloads
🤘 Upvotes
Helix Hour JCM800
Youtube
Direct (Recording, Headphone, PA)
A nice sounding 3 snapshot preset, with JCM 800, killer lead with dimed mids 10 band EQ. Rhythm, Dirty and Lead. Lead snapshot cuts like a knife. More presets coming soon. Shamelessly borrowed from CustomTone.com to have a few patches available for Pod Go launch.
Jorge
797
15
Aces 2204
Direct (Recording, Headphone, PA)
This patch will make your mudflaps flap. Juicy JCM800 tone. The reverb makes the chords a bit richer.
Jorge
432
6
Stone Queen
Direct (Recording, Headphone, PA)
This patch uses the Stone Age 185 amp and the 1x12 Lead 80 cabinet. It's a simple patch for classic rock.I always run my Go in Stomp Footswitch mode, so make sure this is turned on and you can turn on your Teemah and Kinky Comp from there.
Gr1980
226
4
Dirty Plexi
Soundcloud
Direct (Recording, Headphone, PA)
Versatile dirty Marshall sound.
Jorge
179
3
Fender Twin Tone for Boss Katana 50
Plugged in Front of the Amp
Use this patch by plugging straight into a Katana 50. Use the acoustic channel on the amp, and keep all Katana settings at noon, and adjust to taste. This patch uses the Fender Twin (normal channel) Helix model for a nice crisp Fender tone thru your Katana. Step on the Teemah! for a nice fat lea…
Jorge
250
3
Bonamassa Live
Soundcloud
Direct (Recording, Headphone, PA)
This is a modified version of bart2580's "Bonamassa 1959LP" patch on customtone. I modified it to use a built-in cab rather an an IR, and made a few smaller tweaks as well. The delay is very present in the mix, so you my want to tame it a bit, I like it.
Jorge
189
3
Ambient
Direct (Recording, Headphone, PA)
Ambient
Carino.Ericson
182
3
Green Day Brain Stew
Youtube
Direct (Recording, Headphone, PA)
I made this patch to play along to Brain Stew Stem files. Did a little research on the internet and came across Wampler's video where he works out that tone. He uses the EVH 5150 MXR pedal. I figured, that's just trying to emulate the amp we have in Helix so why not just use the PV Panama :D I thin…
Kalimar
94
2
BMay Helix
Youtube
Direct (Recording, Headphone, PA)
Used for Hammer to fall
Madguitar78
12
1
Badonkater 8
Direct (Recording, Headphone, PA)
Built for an 8 String guitar using the Badonk and Placater Clean models. 4 Snaps -- Clean, Clean Ambient, Thump, and Dirty. One stomp on FS11 for Lead Solo.
Alex Kenivel
88
0
Comments
There are no comments for this yet.
Some Products That We Love
💵 Brought to you by the Fluid Solo department of Commerce
Until there's built in wireless for Helix, add this great and cheap wireless system to your setup.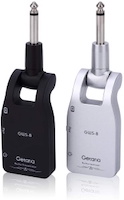 Last seen at around $40
The HX Stomp and Helix LT don't have a mic input like the Helix Floor, but this adapter allows you to plug your Mic into the Aux Return as set up guitar/vocal patches such as this one.

Last seen at around $18
These earplugs are designed for musicians, providing a better audio experience than traditional foam plugs. Plus, they come in a cool aluminum case.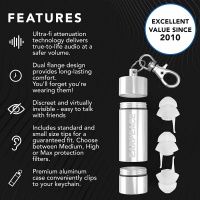 Last seen at around $40