Helix Hour JCM800
Uploaded by jorge on April 18, 2020.
Pod Go
This patch is available for the Pod Go.
Description
A nice sounding 3 snapshot preset, with JCM 800, killer lead with dimed mids 10 band EQ. Rhythm, Dirty and Lead. Lead snapshot cuts like a knife. More presets coming soon.

Shamelessly borrowed from CustomTone.com to have a few patches available for Pod Go launch.
Performance Type
Direct (Recording, Headphone, PA)
Downloads
This patch has been downloaded 1298 times.
Upvotes
This patch has been upvoted by 25 members.
Comments


I downloaded it Monday, it sounded great though my 'phones, and used it at rehearsal last night (Tuesday) with one of my covers bands (with a few small changes to volume pedal location and wah type) with the cab turned off and it sounded really good through my Fender Tonemaster Twin Reverb. Kicking in the Timmy for the solos really cut through! Recommend changing the wah model to Fassel if you want a deeper wah. But YMMV. :-)
I'll be using it for the basis for some of my band-specific presets as well, it sounds so good! Highly recommended!
Some Products That We Love
Brought to you by the Fluid Solo department of Commerce
These earplugs are designed for musicians, providing a better audio experience than traditional foam plugs. Plus, they come in a cool aluminum case.
Last seen around $40
The Spark Mini contains a built-in rechargeable battery, and impresses with big tones in a tiny package. Bluetooth support allows for music streaming and amp control from your mobile device.
Last seen on sale at $195
A simple and good sounding battery-powered headphone solution. Nux's amp models & effects sound good and you get lots of features for the modest price.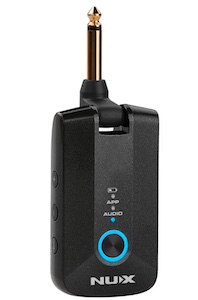 Last seen around $110