Bonamassa Live
Uploaded by jorge on May 4, 2019.
Helix Native
Patch is supported by all Helix devices minus HX Stomp.
Description
This is a modified version of bart2580's "Bonamassa 1959LP" patch on customtone. I modified it to use a built-in cab rather an an IR, and made a few smaller tweaks as well. The delay is very present in the mix, so you my want to tame it a bit, I like it.
Performance Type
Direct (Recording, Headphone, PA)
Downloads
This patch has been downloaded 229 times.
Upvotes
This patch has been upvoted by 3 members.
Comments
Some Products That We Love
Brought to you by the Fluid Solo department of Commerce
This cool guitar strap has built-in strap locks that work without modifying your guitar. All for an extremely reasonable price.
Last seen around $20
A simple and good sounding wireless unit for home use. Don't gig with it, but enjoy the convenience at home.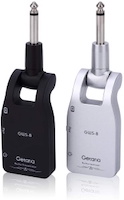 Last seen around $36
These earplugs are designed for musicians, providing a better audio experience than traditional foam plugs. Plus, they come in a cool aluminum case.
Last seen around $40