Jason Sadites BE100
Uploaded by danemiles on May 3, 2021.
HX Stomp
HX Stomp patches are supported by all Helix devices.
Description
This is the imitation of Jason Sadites' BE100 / Placater amp patch, as featured in the Youtube video below.
Performance Type
Direct (Recording, Headphone, PA)
Downloads
This patch has been downloaded 219 times.
Upvotes
This patch has been upvoted by 3 members.
Comments
There are no comments yet.
Some Products That We Love
Brought to you by the Fluid Solo department of Commerce
The HX Stomp and Helix LT don't have a mic input like the Helix Floor, but this adapter allows you to plug your Mic into the Aux Return as set up guitar/vocal patches such as this one.

Last seen around $19
I've been using one of these power supplies permanently zip-tied to my pedalboard, and it's been very handy to keep the original power supply around for off-board usage. Plus it's cheap and works well.
Last seen around $16
A simple and good sounding battery-powered headphone solution. Nux's amp models & effects sound good and you get lots of features for the modest price.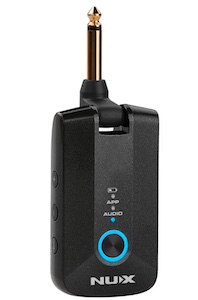 Last seen around $110