Phil X Pod Go IR
Uploaded by jorge on May 19, 2020.
Pod Go
This patch is available for the Pod Go.
Description
This patch is based off of the information on this post on The Gear Page. It's a simple Placater dirty amp into a delay. The amp settings are identical to those in the discussion, and uses the same IR as was discussed in the post.
The IR can be downloaded for free from here:
dropbox.com
Performance Type
Direct (Recording, Headphone, PA)
Downloads
This patch has been downloaded 231 times.
Upvotes
This patch has been upvoted by 1 member.
Comments
Some Products That We Love
Brought to you by the Fluid Solo department of Commerce
This cool guitar strap has built-in strap locks that work without modifying your guitar. All for an extremely reasonable price.
Last seen around $20
These earplugs are designed for musicians, providing a better audio experience than traditional foam plugs. Plus, they come in a cool aluminum case.
Last seen around $40
A simple and good sounding wireless unit for home use. Don't gig with it, but enjoy the convenience at home.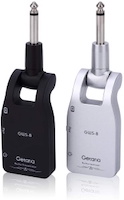 Last seen around $36