Shimmering
Uploaded by jorge on April 7, 2019.
Helix Native
Patch is supported by all Helix devices minus HX Stomp.
Description
A nice patch for fingerpicking and playing along with an acoustic guitar. Soundcloud demo recorded on a Les Paul with the bridge pickup. Might sound even better with single coils.
Performance Type
Direct (Recording, Headphone, PA)
Downloads
This patch has been downloaded 184 times.
Upvotes
This patch has been upvoted by 1 member.
Blocks DSP 0
(Friedman BE-100 (clean channel))
Blocks DSP 1
(Fender® Twin Reverb® (vibrato channel))
(Dytronics® Tri-Stereo Chorus)
Comments
There are no comments yet.
Some Products That We Love
Brought to you by the Fluid Solo department of Commerce
A simple and good sounding wireless unit for home use. Don't gig with it, but enjoy the convenience at home.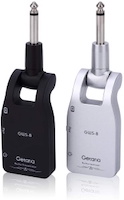 Last seen around $36
Pedal toppers make switching easier by giving you more surface area for your feet.
Last seen around $9 for a ten-pack
A simple and cost effective way to add 2 additional footswitches to your HX Stomp or other HX device. Yes, including Pod Go! Please be advised that you will also need a TRS type 1/4 inch cable to use both switches.
Last seen around $22