Browse Helix Models and Effects
Helix currently supports 72 amplifier models, 194 effects, 37 speaker cab models, and 16 microphones. On top of all that you also have the ability to load Impulse Responses (IRs) that you can grab from free or paid sources. Go have fun.
US Double Vib (Fender® Twin Reverb® (vibrato channel))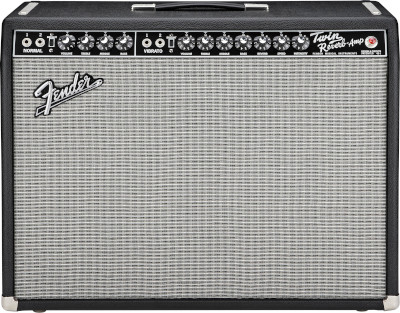 Recorded using a Stratocaster with Seymour Duncan SSL-1 neck pickup. Default amp and cab settings, spring reverb added.
The Fender Twin Reverb is one of the most popular guitar amps ever produced. It is widely used by players looking to maintain a clean tone while playing as loud as possible. The built-in spring reverb sounds great and adds to amp's iconic tone.
This model is for the amp's "vibrato" channel. Depending on the year of the amp, this channel will have an extra gain stage.
Patch
Performance
Type
Description
Member
👇 Downloads
🤘 Upvotes
Double Worship
Direct (Recording, Headphone, PA)
This patch is based on a Fender Twin, with some tremolo for modulation, a couple delay settings, and reverb. The drive section uses the Heir Apparent. Snapshot 1 is clean, SS 2 is drive and SS 3 engages the trem.
Nsauceman
443
5
Vibrolux Kitchen Sink
Direct (Recording, Headphone, PA)
The preset features a clean Vibrolux with two gain options; the EQ is set in front of the amp with a boost and there is a Kinky Boost between the amp and cab with a boost. It also has a transistor tape delay, chorus, and reverb - season to taste. I use this with my single coil guitars, but it shoul…
Wagdog
186
2
MM Ambient
Soundcloud
Direct (Recording, Headphone, PA)
This is an ambiental patch which provide clean guitar sound on rich background which shall be generated as you play. Enjoy!
Mvmilosevic
49
2
Shimmering
Soundcloud
Direct (Recording, Headphone, PA)
A nice patch for fingerpicking and playing along with an acoustic guitar. Soundcloud demo recorded on a Les Paul with the bridge pickup. Might sound even better with single coils.
Jorge
223
1
Thrice Dustin Kensrue
Direct (Recording, Headphone, PA)
These are a few settings that I think are close to Dustin Kensrue from Thrice's current setup. I've heard him say on Twitter that he likes using the Double Amp model and Minotaur and messing with gain settings and snapshots for different tones. I decided to use the Heir Apparent instead for a littl…
Nsauceman
203
0
Comments
There are no comments for this yet.
Some Products That We Love
Brought to you by the Fluid Solo department of Commerce
The HX Stomp and Helix LT don't have a mic input like the Helix Floor, but this adapter allows you to plug your Mic into the Aux Return as set up guitar/vocal patches such as this one.

Last seen around $19
This cool guitar strap has built-in strap locks that work without modifying your guitar. All for an extremely reasonable price.
Last seen around $20
The Spark Mini contains a built-in rechargeable battery, and impresses with big tones in a tiny package. Bluetooth support allows for music streaming and amp control from your mobile device.
Last seen on sale at $195