Browse Helix Models and Effects
Helix currently supports 72 amplifier models, 194 effects, 37 speaker cab models, and 16 microphones. On top of all that you also have the ability to load Impulse Responses (IRs) that you can grab from free or paid sources. Go have fun.
Heir Apparent (Analogman Prince of Tone)
Recorded using a Les Paul with Burstbucker pickups into a Twin Reverb model with the normal input. The overdrive pedal and amp are set at default settings. A touch of reverb added for depth.
The Prince of Tone is the same as half of the King of Tone, with an external MODE switch standard. It is the same as the KOT with HIGHER GAIN option, so you can use the full range of the DRIVE knob and it has a little more drive at the top than a normal gain KOT. The DISTORTION mode is improved though, for a louder, stronger distortion sound.
Description source: reverb.com
Image source: ModularGrid
Patch
Performance
Type
Description
Member
👇 Downloads
🤘 Upvotes
Pink Floyd - Comfortably Numb
Youtube
Direct (Recording, Headphone, PA)
This is a slightly altered version of josepqr's patch on Custom Tone.To get the Gilmour tone, you need a single coil pickup, preferably a Strat.The patch has 3 snapshots, so make sure you cycle through them to get the range of tones in the preset.
Jorge
1844
20
Double Worship
Direct (Recording, Headphone, PA)
This patch is based on a Fender Twin, with some tremolo for modulation, a couple delay settings, and reverb. The drive section uses the Heir Apparent. Snapshot 1 is clean, SS 2 is drive and SS 3 engages the trem.
Nsauceman
443
5
Stereo Lead
Direct (Recording, Headphone, PA)
Revv and Heir Apparent lead tone
777l3
517
4
Fullerton Flyboard
Youtube
Direct (Recording, Headphone, PA)
This patch was provided to me by my teacher Josh Skaja. It's an all-purpose patch that you can use for performing a number of pop songs. Two distortion pedals allows for some great gain staging. The modulation blocks are really versatile as well. In this YouTube video I'm using it with the de…
Kalimar
269
4
Tele Boogie
Soundcloud
Direct (Recording, Headphone, PA)
I really like the Mesa Lone Star amps, but I didn't really care for the stock Helix patches featuring the amp. This tone has 3 snapshots, clean, overdriven and dirty. I used my trusty Telecaster to create the patch and Soundcloud sample below.I'm re-discovering the Double Take model on Helix, which…
Jorge
652
3
Hey Hey My My
Youtube
Direct (Recording, Headphone, PA)
Heir Apparent into the Bass Octaver into the Fullerton Normal. No IRs needed.Youtube link is to the original recording.
Rocco Crocco
128
1
Run to you
Youtube
Direct (Recording, Headphone, PA)
Brian Adams Run to you
Madguitar78
97
1
Thrice Dustin Kensrue
Direct (Recording, Headphone, PA)
These are a few settings that I think are close to Dustin Kensrue from Thrice's current setup. I've heard him say on Twitter that he likes using the Double Amp model and Minotaur and messing with gain settings and snapshots for different tones. I decided to use the Heir Apparent instead for a littl…
Nsauceman
204
0
Comments
There are no comments for this yet.
Some Products That We Love
Brought to you by the Fluid Solo department of Commerce
These earplugs are designed for musicians, providing a better audio experience than traditional foam plugs. Plus, they come in a cool aluminum case.
Last seen around $40
I've been using one of these power supplies permanently zip-tied to my pedalboard, and it's been very handy to keep the original power supply around for off-board usage. Plus it's cheap and works well.
Last seen around $16
A simple and good sounding battery-powered headphone solution. Nux's amp models & effects sound good and you get lots of features for the modest price.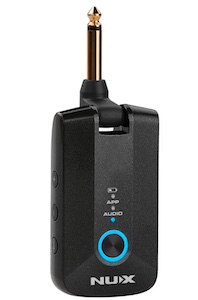 Last seen around $110