Pink Floyd - Comfortably Numb
Uploaded by jorge on April 4, 2020.
HX Stomp
HX Stomp patches are supported by all Helix devices.
Description
This is a slightly altered version of josepqr's patch on Custom Tone.
To get the Gilmour tone, you need a single coil pickup, preferably a Strat.
The patch has 3 snapshots, so make sure you cycle through them to get the range of tones in the preset.
Performance Type
Direct (Recording, Headphone, PA)
Downloads
This patch has been downloaded 1338 times.
Upvotes
This patch has been upvoted by 17 members.
Comments
Some Products That We Love
Brought to you by the Fluid Solo department of Commerce
These earplugs are designed for musicians, providing a better audio experience than traditional foam plugs. Plus, they come in a cool aluminum case.
Last seen around $40
This cool guitar strap has built-in strap locks that work without modifying your guitar. All for an extremely reasonable price.
Last seen around $20
A simple and good sounding wireless unit for home use. Don't gig with it, but enjoy the convenience at home.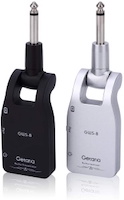 Last seen around $36