Browse Helix Models and Effects
Helix currently supports 72 amplifier models, 194 effects, 37 speaker cab models, and 16 microphones. On top of all that you also have the ability to load Impulse Responses (IRs) that you can grab from free or paid sources. Go have fun.
Minotaur (Klon® Centaur)
Recorded using a Les Paul with Burstbucker pickups into a Twin Reverb model with the normal input. The overdrive pedal and amp are set at default settings. A touch of reverb added for depth.
The Klon Centaur is a guitar overdrive pedal developed by Bill Finnegan between 1990 and 1994. The pedals were made manually by Finnegan. The Centaur is characterized as a "transparent" overdrive, meaning it adds gain to the signal without significantly altering the tone of the guitar.
Depending on the settings of the control knobs, the pedal can act mostly as a clean boost, adding mostly volume and minimal coloring to the sound. This can be used to drive the input valve stage of the amplifier to use the characteristic distortion sound of an overdriven guitar amp. Alternatively (or additionally) the controls can be set to distort the sound signal in the pedal, where two germanium diodes can perform waveform clipping (see clipping (audio)). The "gain" knob is a double potentiometer (a "dual-ganged gain pot"), which controls bass and middle frequencies. Other knobs are treble and volume.
Image source: Thaddeus Hogarth
Patch
Performance
Type
Description
Member
👇 Downloads
🤘 Upvotes
Litigate
Direct (Recording, Headphone, PA)
All Litigator, all the time. 3 snapshots - clean, slightly dirtier with delay, and a higher gain tone. Uses the Allure IR Pack, which is available for free from Line 6, Google it.
Jorge
736
10
Rockerverb
Youtube
Direct (Recording, Headphone, PA)
New for Helix 3.1, the Rockerveb is a very cool and versatile amp for rock n roll. Try this tone in place of a Marshall for a crunchier, fatter tone.
Jorge
281
6
Mike Ness Tone
Soundcloud
Direct (Recording, Headphone, PA)
This is the HX Stomp version of this tone - there's also a version for the Helix available here by selecting the Helix as your device. This is a very good approximation of Mike Ness's Tone on the Social Distortion albums. The recipe is iconic - a dirt pedal into a Bassman head, then into Marshal…
Jorge
362
5
Vicky Blues
Soundcloud
Direct (Recording, Headphone, PA)
This is a Pod Go patch that is based off a popular blues patch I have for the Helix. It's great for high-flying electric blues.
Jorge
335
5
Twin City
Direct (Recording, Headphone, PA)
Nice Fender Twin, for Hawaiian or Country sounds. There's a Minotaur lurking in there somewhere, in case you need it.
Jorge
690
4
Ambient Rock
Youtube
Direct (Recording, Headphone, PA)
The patch has three presets which are for switching sounds while soloing. The first preset is a light overdrive, the second light overdrive plus echo, and the third light overdrive plus distortion. See the example below for a soloing example. I also added a noise gate to help reduce the noise.
Rabbuhl
152
4
Vicky Blues
Soundcloud
Direct (Recording, Headphone, PA)
A Blues patch using the Voltage Queen (Victoria Electro King) amp and a Klon overdrive.
Jorge
179
3
Angry 5150
Soundcloud
Direct (Recording, Headphone, PA)
This pissed off 5150 is perfect for detuned metal chord work.
Jorge
234
3
JOHNAMAYERTRIX
Direct (Recording, Headphone, PA)
(Reposted with permission from AndrewUtz on CustomTone.com) A John Mayer Tone, referencing Slow Dancing In A Burning Room. In this patch I used some basic stuff that I know John has used (or the closest thing to it I could find). I know live he has used dumbles along with a fender bandmaster,…
Jorge
223
3
AC 30 Tone for Boss Katana Amps
Plugged in Front of the Amp
Use this patch by plugging straight into a Katana 50. Use the acoustic channel on the amp, and keep all Katana settings at noon, and adjust to taste. This patch uses the "A30 Fawn Brt" Helix model for a chimey AC30 tone. Use the Klon for some nice hot overdrive. There's some spring reverb includ…
Jorge
314
3
Comments
There are no comments for this yet.
Some Products That We Love
💵 Brought to you by the Fluid Solo department of Commerce
Until there's built in wireless for Helix, add this great and cheap wireless system to your setup.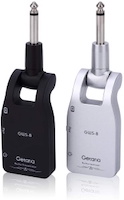 Last seen at around $40
The HX Stomp and Helix LT don't have a mic input like the Helix Floor, but this adapter allows you to plug your Mic into the Aux Return as set up guitar/vocal patches such as this one.

Last seen at around $18
These earplugs are designed for musicians, providing a better audio experience than traditional foam plugs. Plus, they come in a cool aluminum case.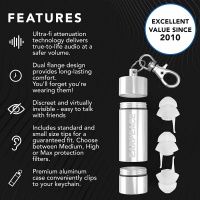 Last seen at around $40