Mike Ness Tone
Uploaded by jorge on May 6, 2019.
HX Stomp
HX Stomp patches are supported by all Helix devices.
Description
This is the HX Stomp version of this tone - there's also a version for the Helix available here by selecting the Helix as your device.
This is a very good approximation of Mike Ness's Tone on the Social Distortion albums. The recipe is iconic - a dirt pedal into a Bassman head, then into Marshall cabinets.
The sample clip was played on a legit Les Paul with P90 pickups - you need this to get the real deal.
Performance Type
Direct (Recording, Headphone, PA)
Downloads
This patch has been downloaded 402 times.
Upvotes
This patch has been upvoted by 5 members.
Comments
Some Products That We Love
Brought to you by the Fluid Solo department of Commerce
A simple and good sounding wireless unit for home use. Don't gig with it, but enjoy the convenience at home.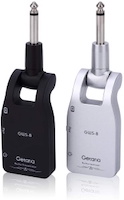 Last seen around $36
These earplugs are designed for musicians, providing a better audio experience than traditional foam plugs. Plus, they come in a cool aluminum case.
Last seen around $40
Pedal toppers make switching easier by giving you more surface area for your feet.
Last seen around $9 for s ten-pack