Flexovibe Deluxe
Uploaded by jorge on Nov. 3, 2022.
HX Stomp
HX Stomp patches are supported by all Helix devices.
Description
I love the Flexovibe, such a cool new effect for Helix 3.50.
Performance Type
Direct (Recording, Headphone, PA)
Downloads
This patch has been downloaded 71 times.
Upvotes
This patch has been upvoted by 2 members.
Comments
There are no comments yet.
Some Products That We Love
Brought to you by the Fluid Solo department of Commerce
The HX Stomp and Helix LT don't have a mic input like the Helix Floor, but this adapter allows you to plug your Mic into the Aux Return as set up guitar/vocal patches such as this one.

Last seen around $19
The Spark Mini contains a built-in rechargeable battery, and impresses with big tones in a tiny package. Bluetooth support allows for music streaming and amp control from your mobile device.
Last seen on sale at $195
A simple and good sounding battery-powered headphone solution. Nux's amp models & effects sound good and you get lots of features for the modest price.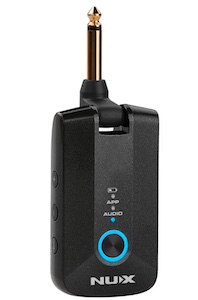 Last seen around $110