Get the Funk Out
Uploaded by madguitar78 on Oct. 29, 2021.
Helix LT
Patch is supported by all Helix devices minus HX Stomp.
Description
used for get the funk out Nuno Bettencourt kinf of sound.
It uses a free IR from Valhallir V2 ee Teaserpack
Performance Type
Direct (Recording, Headphone, PA)
Downloads
This patch has been downloaded 85 times.
Upvotes
This patch has been upvoted by 0 members.
Comments
There are no comments yet.
Some Products That We Love
Brought to you by the Fluid Solo department of Commerce
A simple and good sounding battery-powered headphone solution. Nux's amp models & effects sound good and you get lots of features for the modest price.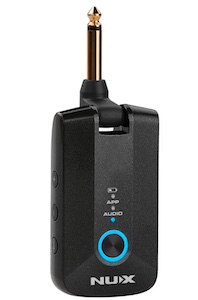 Last seen around $110
Pedal toppers make switching easier by giving you more surface area for your feet.
Last seen around $9 for a ten-pack
Those snark-y headstock tuners are great, but it gets old changing out those coin-sized batteries. This rechargeable unit makes tuning a breeze.
Last seen at $19