Mick Mars
Uploaded by map70 on May 14, 2019.
Helix Rack
Patch is supported by all Helix devices minus HX Stomp.
Description
A Mick Mars/Mötley Crüe tone that is more of what he has been doing from Dr. Feelgood on. Using a Digitech Drop for the whole step drop and a 2010 EVH MIJ Wolfgang Special.
Performance Type
Direct (Recording, Headphone, PA)
Downloads
This patch has been downloaded 163 times.
Upvotes
This patch has been upvoted by 0 members.
Comments
Some Products That We Love
Brought to you by the Fluid Solo department of Commerce
Pedal toppers make switching easier by giving you more surface area for your feet.
Last seen around $9 for s ten-pack
A simple and good sounding wireless unit for home use. Don't gig with it, but enjoy the convenience at home.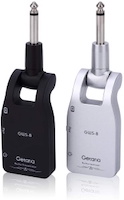 Last seen around $36
These earplugs are designed for musicians, providing a better audio experience than traditional foam plugs. Plus, they come in a cool aluminum case.
Last seen around $40