Helix LT
Patch is supported by all Helix devices minus HX Stomp.
Description
This is my main church preset. This uses the Placater Clean and Placater Dirty models to provide four snapshots of clean to hi-gain tone. Two additional snapshots are for swells and ambient tones. The preset uses an IR (OwnHammer 212 VC30 BLU-93 OH1-07) but replace with the default Placater cabinet and should be about the same. Dialed in with a PRS S2 Single Cut (humbuckers) w/ input pad on.

Performance Type
Direct (Recording, Headphone, PA)
Downloads
This patch has been downloaded 198 times.
Upvotes
This patch has been upvoted by 2 members.
Blocks DSP 0
(Friedman BE-100 (BE/HBE channel))
(Impulse Response (1024 Samples))
Comments
There are no comments yet.
Some Products That We Love
Brought to you by the Fluid Solo department of Commerce
Pedal toppers make switching easier by giving you more surface area for your feet.
Last seen around $9 for a ten-pack
A simple and good sounding wireless unit for home use. Don't gig with it, but enjoy the convenience at home.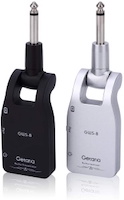 Last seen around $36
The HX Stomp and Helix LT don't have a mic input like the Helix Floor, but this adapter allows you to plug your Mic into the Aux Return as set up guitar/vocal patches such as this one.

Last seen around $19