Helix Native
Patch is supported by all Helix devices minus HX Stomp.
Description
HARDWARE COMPATIBILITY OFF
Can your computer handle it???? You might want to increase your buffer size!!
A monstrous preset built with Helix Native with Hardware Compatibility turned off.
Both paths have a hard gate and poly capo in front, with stereo imagers at the end, and some Simple Delay for a double-tracked feel.
Path A has a Tube Screamer driving the Benizen Mega and Badonk amps, with the Field Coil and Blue Bell stock cabs respectively.
Path B has the Bighorn Fuzz into the Grammatico with matching cab parallel to the US Princess with its 12" matching cab.

Performance Type
Direct (Recording, Headphone, PA)
Downloads
This patch has been downloaded 98 times.
Upvotes
This patch has been upvoted by 1 member.
Comments
There are no comments yet.
Some Products That We Love
Brought to you by the Fluid Solo department of Commerce
These earplugs are designed for musicians, providing a better audio experience than traditional foam plugs. Plus, they come in a cool aluminum case.
Last seen around $40
A simple and good sounding battery-powered headphone solution. Nux's amp models & effects sound good and you get lots of features for the modest price.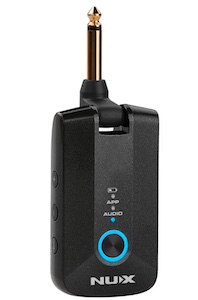 Last seen around $110
A simple and cost effective way to add 2 additional footswitches to your HX Stomp or other HX device. Yes, including Pod Go! Please be advised that you will also need a TRS type 1/4 inch cable to use both switches.
Last seen around $22