Green Day Brain Stew
Uploaded by kalimar on April 26, 2021.
HX Stomp
HX Stomp patches are supported by all Helix devices.
Description
I made this patch to play along to Brain Stew Stem files. Did a little research on the internet and came across Wampler's video where he works out that tone. He uses the EVH 5150 MXR pedal. I figured, that's just trying to emulate the amp we have in Helix so why not just use the PV Panama :D I think it worked well. I turned up the noise gate to get that tight tone for the chords.
I hope you enjoy and would love any feedback you have.

Performance Type
Direct (Recording, Headphone, PA)
Downloads
This patch has been downloaded 272 times.
Upvotes
This patch has been upvoted by 2 members.
Comments
Some Products That We Love
Brought to you by the Fluid Solo department of Commerce
A simple and good sounding battery-powered headphone solution. Nux's amp models & effects sound good and you get lots of features for the modest price.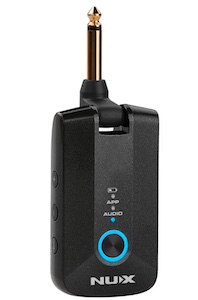 Last seen around $110
The Spark Mini contains a built-in rechargeable battery, and impresses with big tones in a tiny package. Bluetooth support allows for music streaming and amp control from your mobile device.
Last seen on sale at $195
This cool guitar strap has built-in strap locks that work without modifying your guitar. All for an extremely reasonable price.
Last seen around $20